Crispy Fried Batter Spirals in Saffron Syrup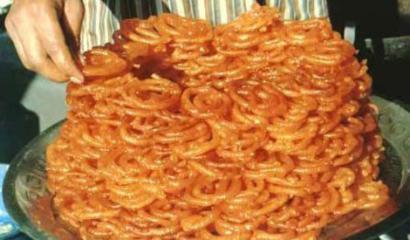 Ingredients:
• Unbleached plain flour – 2 cups
• Rice flour – 1½ tbsp
• Baking powder – ¼ tsp
• Yogurt – 2 tbsp
• Warm water – 1¼ cups
• Powdered saffron – ½ tsp
• Sugar – 3 cups
• Water – 2 2/3 cups
• Rose water – 1½ tbsp
• Ghee for deep-frying
Preparation:
1. Mix together the flour, rice flour and baking powder in a glass or ceramic bowl. Add the yogurt, the 1¼ cups warm water, and half the saffron, and whisk it into a smooth batter, and cover it.
2. Leave it in a warm place for 18-24 hours. The batter will be ready when it appears somewhat gelatinous and gooey when whisked. It should flow from a spoon in a broad solid band without breaking.
3. Combine the sugar, the remaining saffron and 2 2 / 3 cups water in a 3-litre/quart frying pan or deep pan. Place over moderate heat, stir to dissolve the sugar, raise the heat and boil for 8 minutes. Remove the pan from the heat and stir in the rosewater.
4. Set a cake rack on a tray near the cooking area. Fill a large flat pan with ghee to a depth of 3.75cm (1½ inches) and heat to 180°C/355°F.
5. Pour the batter into your piping bag or squeeze bottle and squeeze the batter out over the surface of the hot ghee. You can form three-ring connecting spirals, loose double-figure eights or a series of loops, joined in a chain. Each piece should be about 5cm x 5cm (2 inches x 3 inches) wide.
6. Fry for about 30 seconds on the first side, and 20-30 seconds on the second side, or until they turn crisp and golden brown.
7. Lift the cooked jalebis out of the ghee, and lower them carefully in the hot syrup. With another slotted spoon, hold them under the syrup for 15-20 seconds to allow the hot syrup to fill up the hollow centres of the loops. Don't let them languish too long in the syrup lest they become limp.
8. Remove the jalebis from the syrup and place them on a cake rack to drain.
9. Continue to shape, fry, soak and drain the remaining jalebis.
10. Serve the jalebis hot.
By Kurma