Cubed Potatoes with Fresh Fenugreek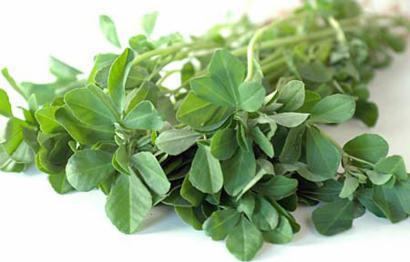 Ingredients:
• Medium-sized waxy red, New potatoes or walnut-sized baby reds – 1½ pounds (685g)
• Mustard oil, peanut oil or ghee – 5 tbsp
• Cumin seeds – 1 tsp
• Black mustard seeds – 1 tsp
• Chopped fenugreek greens or leaf spinach, (washed and trimmed) – 1½ cups
• Paprika or cayenne pepper – ¼ tsp
• Turmeric – ½ tsp
• Salt – 1 tsp
• Garam masala – 1 tsp
• Lemon or lime juice – 2 tsp
Preparation:
1. Wash the potatoes and boil them in their skins until they are just fork-tender. Do not overcook. Drain them and spread out to cool. Peel and cut into ¾ -inch (2 cm) cubes.
2. Heat the oil or ghee in a heavy 12-inch (30 cm) nonstick frying pan. Let mustard oil reach the smoking point. Sauté the potatoes quickly until they begin to brown, then remove with a slotted spoon and set aside.
3. Add the cumin and mustard seeds to the hot oil and fry until the mustard seeds turn gray and sputter. Stir in the fenugreek greens or spinach, paprika or cayenne, turmeric and a sprinkle of water, cover and reduce the heat to moderately low. Cook for 8-10 minutes, then add the potatoes, salt and garam masala. Shake the pan or gently toss to mix, cover and cook until the potatoes are heated through. Sprinkle with lemon or lime juice before serving.
Serves
5 to 6 Persons
By Kurma