Dum Paneer Kalimirch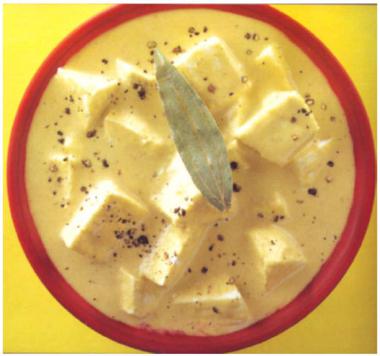 •
Cottage cheese (malai paneer)………. 400 gms
•
Ginger……… ……………………… 1 inch piece
•
Green chilies…………………………. 2-3
•
Fresh coriander leaves………………… ½ medium bunch
•
Fresh mint leaves……………………… ¼ medium bunch
•
Yogurt…………………………………. 1 cup
•
Oil……………………………………… to deep fry
•
Pure ghee………………………………. 2 tbsp
•
Bay leaves……………………………… 2
•
Cinnamon………………………………. 1 inch stick
•
Green cardamoms……………………….. 3-4
•
Cloves………… ………………………. 3-4
•
Coriander powder……………………….. 2 tbsp
•
Cumin powder……………………………1 tsp
•
Salt………………………………………. To taste
•
Fresh cream………………………………. ½ cup
•
Peppercorns (crushed)…………………… 1 tbsp
•
Garam masala powder………………….. 1 tsp
1.Cut paneer into one-inch sized cubes. Peel and wash ginger. Remove stems, wash green chilies. Grind ginger and green chilies to
a fine paste. Clean wash and finely chop fresh coriander and mint leaves. In a bowl, whisk yogurt to a smooth consistency.
2.Heat sufficient oil in a pan/kadai. Deep fry the paneer.
3.Heat pure ghee in a narrow mouthed handi, add bay leaves, cinnamon, green cardamoms and cloves. Stir-fry briefly. Add
ginger-green chili paste and sauté on high heat for half a minute.
4.Add the whisked yogurt, coriander powder, cumin powder and salt to taste. Stir well, add one cup of water and cook on high
heat, stirring frequently, till the gravy starts boiling.
5.Add paneer and mix in coriander and mint leaves. Stir in fresh cream and crushed peppercorns. Sprinkle garam masala powder.
6.Cover handi with a tight-fitting lid and seal using whole-wheat dough (atta) or alternatively, seal tightly with aluminum foil.
7.Place sealed handi in the preheated oven and cook for ten to fifteen minutes.
By Vaidehi