Easy Chunky Tomato Jalapeno Paneer Soup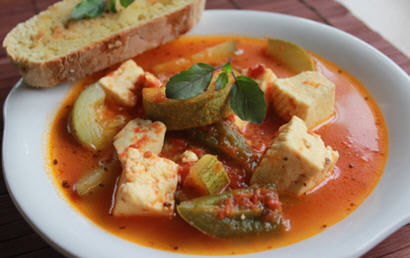 Description
This soup is really easy to make and extra delicious! I served it with toasted homemade bread smothered in olive oil used for dipping into the soup. Fantastic dish!
Ingredients
• 5 large tomatoes
• 3 jalapenos
• 2 zucchini
• 1/2 pound fresh chopped paneer
• 2 cups whey
• 2 tbsp ghee
• dash hing
• 1/2 tsp dried oregano
• 2 tsp salt
• 1/4 tsp pepper
• 2 tsp sugar
• juice of one lime
Preparation
1. To begin, blend up all the tomatoes until smooth.
2. Next chop the jalapenos into big chunks and take out all the seeds.
3. Chop the zucchini into big chunks as well.
4. Next heat the ghee in a large pot and add the jalapeno chunks. Fry for about a minute.
5. Then add the tomato puree and all remaining spices. Cook for about 8 minutes or until the tomato sauce is fully cooked.
6. After about 8 minutes, add the chopped zucchini and whey.
7. Then immediately add the chopped paneer.
8. Cook for an additional 5 more minutes and you are done.
9. Serve with toasted bread and you are ready to Serve!
By Bhaktin Christina