Eggless Mango Flan Pie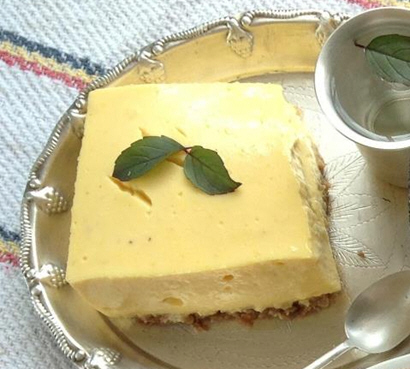 Ingredients
For Filling
• 4 cups of fresh yogurt cheese (the yogurt cheese I used for this recipe was not super thick, I used a little bit more softer version)
• 1 1/2 cups of sugar as needed
• 2 large or 4 small fresh mangoes
• 4 tbsp. cornstarch
For Crust
• 2 cups oatmeal flour (oatmeal that was blended in a spice grinder)
• 1/2 cup brown sugar
• Cinnamon and fresh ground nutmeg to taste
• Ghee (add a tablespoon of ghee at a time until you can form a ball of dough in your hand without it breaking)
Preparation
1. Preheat oven to 375 degrees.
2. Add into a large bowl 4 cups yogurt cheese, sugar, mango and cornstarch. Blend it all up with a hand blender until nice and smooth. Then set aside.
3. For the crust first you will need to grind up your oatmeal to a flour texture. I used a spice grinder. Then add brown sugar and cinnamon and nutmeg to the oatmeal flower. Then add ghee to the mixture until you can form a ball of dough in your hand without it breaking
4. Next, press the crust mixture into a baking pan.
5. Then pour the mango mixture over the crust mixture.
6. Bake for 35 minutes. Keep checking to make sure the sides are not getting too brown.
7. Cool down to room temperature or store in the fridge for a few hours.
By Bhaktin Christina
Source : https://www.facebook.com/KrsnasTreatsAndInspiringIdeas