Eggplant Fritters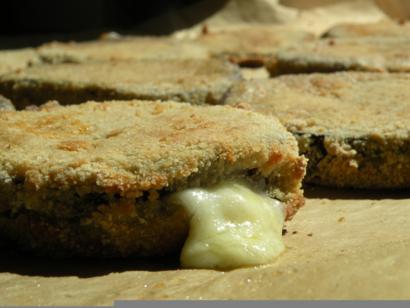 These are aptly called eggplant sandwich fritters. When I first served them to Srila Prabhupada, much to my delight, he dubbed them "vegetable chops". These fritters can be served hot or at room temperature. Salting time: ½ hour
Preparation and cooking time: about 30 minutes
Ingredients
• Eggplant (about 2 pounds/1 kg), cut crosswise into ½ -inch (1.5 cm) slices salt – 1 large
• Chickpea flour (shifted before measuring) – ½ cup (50 g)
• Self-rising flour or whole wheat pastry flour mixed with a generous pinch of baking powder – 3 table spoons (45 ml)
• Cornmeal – 2 table spoon (30 ml)
• Cayenne pepper or paprika – 1/8 teaspoon (0.5 ml)
• Turmeric – ¼ teaspoon (1 ml)
• Finely chopped fresh coriander, basil or parsley – 3 table spoons (45 ml)
• Water – 3 table spoons (45 ml)
• Mozzarella cheese, thinly sliced – 6 ounces (170 g)
• Fresh or dry bread crumbs or 2/3 cup (115 g) fine semolina – 1 ¼ cups (125 g)
• Ghee or vegetable oil for shallow-frying.
Preparation
1. Place the eggplant slices on a tray and sprinkle liberally with salt. Let them sit for at least ½ hour to draw out excess moisture
2. Combine the flours, baking powder, cornmeal, cayenne or paprika, turmeric, fresh herb and ¼ teaspoon (1 ml) of salt with the water in a bowl and whisk into a smooth batter the consistency of thick cream. (You may have to add more water).
3. Rinse the salt off the eggplant and pat the slices dry with paper towels. To obtain uniform rounds, cut out with biscuit rings about 12 inches (5 cm) in diameter. Pair eggplant slices of the same size, reserving the ends or trimmings for another use. Trim the cheese slices so they are slightly smaller than the eggplant rounds. Place 2 thin slices of cheese between a pair of eggplant slices. Dip the sandwich in the chickpea batter, lightly shake off the excess flour, then coat with bread crumbs or semolina and set aside on waxed paper. Make all the eggplant sandwiches in this way.
4. Heat ghee or oil to a depth of ½ inch (1.5 cm) in a large heavy frying pan over moderate heat until it is hot but not smoking. Place the sandwiches in the pan and fry for 10-15 minutes on each side or until the eggplant is fork-tender and nicely browned. Adjust the heat carefully: if the temperature is too high, the cheese tends to burst through the batter-crumb casing; if it is too low, the fritters absorb excessive oil. Serve piping hot.
Serves
4 to 6
By Yamuna Devi Dasi