Mustard Rice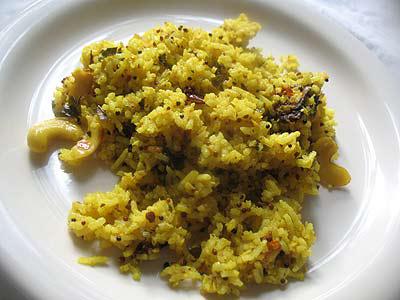 Ingredients
• Rice – I cup
• Ground nuts – 1 ½ tbsp (Without skin. roasted)
• Cashew nuts – 1 tbsp
• Ghee – 1 ½ tbsp
• Oil – 2 tbsp
• Salt -as required
• Finely Cut Coriander Leaves – few
For Seasoning:
• Mustard seeds – ½ tsp.
• Black gram dhal – 1 tsp.
• Bengal gram dhal – 1 tsp.
• Red chilies – few
Grind together:
• Grated fresh coconut – ¼ cup
• chilies – 3-4
• Jaggery – little (optional)
• Roasted gram – 1 Tbsp
• Mustard seeds – ¼ tsp.
• Tamarind – gooseberry sized
• Asafetida – a pinch
Preparation
1. Cook rice and allow it to cool completely.
2. Separate the grains using a fork.
3. Heat oil and fry the seasonings till golden brown.
4. Add the ground masala and fry for few minutes.
5. Add to rice with enough salt and mix well.
6. Heat ghee separately and fry cashew nuts and groundnuts.
7. Pour over rice and serve.
Serves
2 Persons.
By Bhaktin Archana