Ekadashi Apple Cinnamon Almond Cookie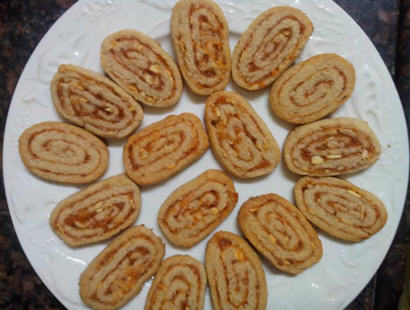 For Apple Jam
Ingredients
. Peeled and Grated Apples: 1 cup
. Sugar: ¾ cup (based on taste)
. Lemon Juice: 1 tsp
. Cinnamon powder: 1tsp
. Method:
. Mix grated apples and Sugar on full gas, keep stirring till a small drop of the mixture forms a soft ball in water. Put off the gas. Add lemon juice and Cinnamon powder. Stir and cool
For the Cookie
Ingredients
. Ekadashi Flour. (Special Fasting Flour, A Mix of Rajgira, Sama, Shingada) : 2 cups
. Baking Powder: 1tsp
. Cinnamon Powder: 1tbsp
. Sugar: 1cup
. Soft Butter: 1/3 cup
. Yoghurt:3 Tbsp
. Apple Cinnamon Jam: 1/3 cup
. Almond Nuts very small pieces: 1/3 cup
. Parchment paper
Preparation
1. Mix Butter and Sugar till soft and well mixed. Add Yogurt and mix well.
2. Add the baking powder and cinnamon to the Ekadashi flour. Mix the flour with the sugar mixture. Mix well with hands till it forms a soft dough.
3. Put the dough on a parchment paper the size of a 15 inch square.
4. Cover the dough with an equal sized parchment paper. Roll it to the size of a 12 inch square. Remove the top parchment paper. Spread the jam on the dough. Spread the nuts on top of the jam. Roll the dough in a cylindrical shape. Cover with parchment paper and refrigerate for approx1-2 hours or till firm.
5. Remove and lengthen the cylinder by few inches. Cut the cylinder into ¼ inch cookie slices.
6. Put parchment paper on the baking tray or grease the tray and keep the cookies about 1 ½ to 2 inches apart.
7. Bake at 190C or 375F for 10-12 minutes. Cool and keep in a airtight container.
8. Serve to the Lord and distribute the Mercy.
9. Makes between 25-30 pieces.
10. It tastes delicious and looks fabulous too.
By Meena Samtani