Fluffy Biscuits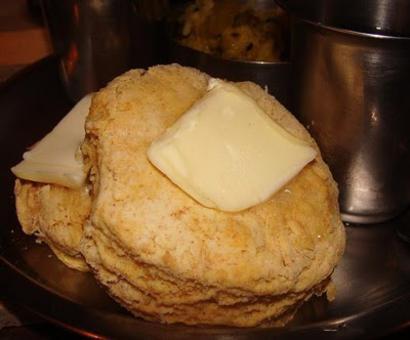 Ingredients:
• Atta or whole wheat pastry flour – 2 cup
• Baking powder – 4 tsp
• Baking soda – 1/4 tsp
• Salt – 3/4 tsp
• Butter – 4 tbsp
• Thin yogurt, chilled – 1 cup
Preparation:
1. Combine dry ingredients in a mixing bowl.
2. Grate the butter and rub it into the flour mixture with your hands until the consistency is like fine crumbs.
3. Make a well in the mixture and pour in the yogurt. Stir briefly to begin moistening all the dry ingredients.
4. Empty contents onto a clean counter and continue to lightly knead the ingredients by gently folding 5 or six times, incorporating all remaining mixture that is still loose. In other words, knead lightly if you want fluffy biscuits.
5. Gently pat the dough into a round that is about 1" thick. Cut into biscuits. I used a 3" diameter cutter to make 8 large biscuits. Reform any remaining scraps, working with it as little as possible and continue to cut out biscuits until there is no dough remaining.
6. Place biscuits close together on a greased baking tray. Bake for 15 to 20 minutes or until lightly browned on top.
By Bhaktin Priya