Frankie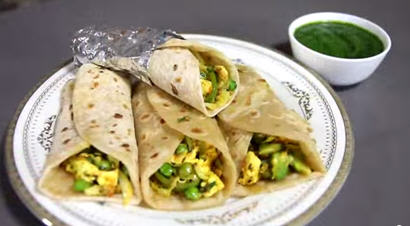 Ingredients
For Making Dough
. 1 Cup – Whole Wheat Flour
. 1 Cup – All Purpose Flour/ Maida
. 2-3 tbsp – Ghee
. 2 tbsp – Oil
. Half tsp Salt
For Stuffing
. 1 – Capsicum (Thinly sliced)
. 1 – Tomato – (Finely Chooped)
. 200grms – Paneer
. 100 grms – Cabbage (Thinly sliced)
. 1 Cup – Green Peas
. 2 tbsp – Oil
. 2tbsp – Coriander
. 1 inch piece – Ginger (Grated)
. 1 – Green Chilli (Finely Chopped)
. 1 tsp – Coriander Powder
. 1 pinch – Asafoetida
. 1/2 tsp – Cumin Seeds
. 1/4 tsp – Red Chilly Powder
. 1/4 tsp – Turmeric Powder
. Salt as per taste
Preparation
For Making Dough.
1. Mix Maida, salt and oil in wheat flour.
2. We can also make vegetabele frankie by using only maida.
3. Add little Amount of lukewarm water and knead soft dough.
4. We have used less then 1 cup of water to knead this dough.
5. Cover the dough for 20 min for fermenting.
For Stuffing
1. Head the pan.
2. Add half of the oil in heated pan.
3. Add green peas into pan and cook until they become little tender.
4. Cover and Cook for 1 min.
5. Cut Paneer into small chunks.
6. Peas have become tender, take them out in a bowl.
7. In the same oil add capsicum and cabbage and cook for 2 min until they become tender.
8. Take them out in a bowl
9. Add rest of the oil in pan.
10. Also Add cumin seeds, coriander powder, asafoetida, turmeric powder, tomatoes, green chilly and ginger.
11. Also add red chilly and cook until tomatoes get mashed properly.
12. oil has started separating and masala is ready.
13. Now add paneer chunks and salt.
14. Also add all vegetables and mix all ingredients nicely. Add Green coriander as well.
15. Mix all ingredients nicely.
16. Turn off the gas and take out vegetables in a bowl.
For Making Frankie
1. Take little amount of dough in your hands and make round ball from it.
2. Dust the ball with dry maida or wheat flour and roll it thinly.
3. Roll into 10-12 diameter circle
4. Roll it from corners so that it doesn"t get thin from the center.
5. Now place the roti on heated tawa.
6. Flip the side as it is roased from beneath.
7. Roast until it gets brown spots on the other side as well.
8. Now Roast it directly on the flame.
9. Don"t make the roti too crispy as we have to make roll from it.
10. Spread some ghee on the roti.
11. If children like eating paranthas then instead of making roti make parantha.
12. Spread some ghee on the roti and flip side. Don"t make it too crusty.
13. with this much quantity of dough we can make 7-8 Rot/paranthas.
14. Spread 1/2 tsp of chutney over roti.
15. Place the stuffing on the roti.
16. Fold it from 3 sides.
17. Insert a tooth pick or wrap it in foil
18. Vegetable frankie is ready to serve.
Serves : 7-8 Frankies
By Nisha Madhulika
Source : https://www.youtube.com/watch?v=yxmOth5txdQ