Fresh mint Chutney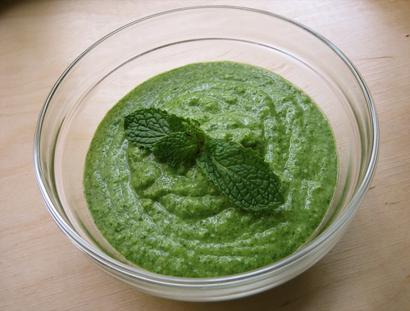 Fresh mint chutney, like coriander chutney, is refer5shingly sharp and bracing. Long recognized for its digestive properties, it is avery popular accompaniment to fried savories and highly spiced dishes. The overall character of the chutney depends on the type of mint you use, be it from the supermarket or freshly harvested from your herb garden. I have tested the recipe with numerous species and come up with different results. For example, the dappled cream and pale green leaves of pineapple mint (menthe suaveolens variegata) has a fruity flavor, while the rounded downy leaves of Egyptian mint (M,suaveolens) has fresh apple overtones. For best all-round use, I prefer Bowels mint (M.x.villosa), with its fresh scent and mild flavor. No matter what your source, if the mint is pungent, with a coarse flavor, temper it with coconut, nuts or dried fruits.
Preparation time (after assembling ingredients): 10 minutes
Ingredients
• Fresh lime juice and orange juice – 2 table spoons (30 ml) each
• Finely chopped dried papaya or honey – 2 table spoons (30 ml)
• Water – 3 table spoons (45 ml)
• Trimmed fresh mint, packed – 1 ¾ cups (420 ml)
• Hot green chilies, seeded and chopped – 1-2
• Fresh or dried coconut, lightly packed – ¼ cup (25 g)
• Salt – 1 teaspoon (5 ml)

Preaparation
Combine all of the ingredients in a food processor fitted with the metal blade, or a blender, and process until smooth. (The texture should resemble runny applesauce; you may need more water to reach this consistency). Transfer to a bowl and serve or cover well and keep refrigerated for up to 2 days.

Makes:
about 1 cup (240 ml)

By Yamuna Devi Dasi