Fresh Pineapple and Raisin Chutney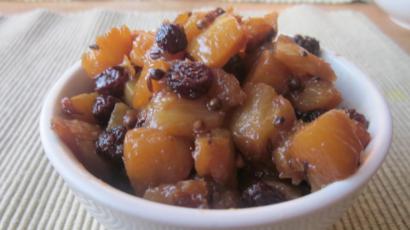 Within India's districts even towns and villages have their own distinct cuisines. Mayapur, in West Bengal, is associated with foods loved by Shree Chaitanya Mahaprabhu, the founder of Gaudiya Vaishnavism, and on his birthday, called GourPurnima, thousands of dishes are made in his honor. On Srila Prabhupada's first GourPurnima, in America, he taught his students to make a handful of dishes loved by lord Chaitanya, including laphra, charchari, payasa, bhaji and this chutney. Its character is outstanding, and although over the years many imitations have come to my attention, none match the original. It makes even a humble meal an event.
Preparation time (after assembling ingredients): about 1 hour
Ingredients
• Ghee – 3 table spoons (45 ml)
• Whole dried red chilies – 1-2
• Cumin seeds – ½ table spoon (7 ml)
• Coriander seeds – ½ table spoon (7 ml)
• Ripe pineapple (about 2 ½ pounds/1.5 kg) peeled, quarted, cored, and cut into pieces ¾ * ¼ * ¼ inch (2 cm * 6 mm * 6 mm); reserve the juice – 1 large
• Cardamom seeds, slightly crushed – ½ teaspoon (2 ml)
• Garam masala or ¼ teaspoon (1 ml) each ground cloves and cinnamon – ½ teaspoon (2 ml)
• Maple sugar, brown or jaggery – 2/3 cup (100 g)
• Raisins or currants – 1/3 cup (50 g)

Preparation
1. Heat the ghee in a 2-quart/liter heavy-bottomed pan (preferably nonstick) over moderate heat until it is hot but not smoking. Add the red chilies, cumin seeds and coriander seeds and fry until they darken a few shades. Carefully add the pineapple and its juice (they tend to splatter), cardamom seeds and garam masala. Stirring now and then, gently boil over moderate to moderately low heat until the fruit is tender and the juice has cooked off. Toward the end, stir constantly to keep the fruit from scorching in the nearly dry pan.
2.
Add the sweetener and raisins or currants, reduce the heat slightly and cook, stirring frequently, until the chutney is glazed and thick. Serve at room temperature, or cover and refrigerate for 3-4 days. Bring to room temperature before serving.
Makes:
about 2cups (480 ml)

By Yamuna Devi Dasi