Butter Soft Eggplant Wedges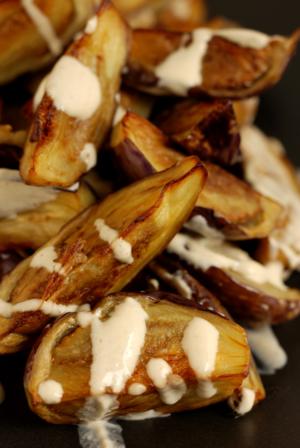 Srila prabhupada gave us this recipe during his 1967 San Francisco classes. In Bengal, bhaji is loosely defined as any fried vegetable, and while this variation has other names, such as eggplant Pukki, one thing is constant: it must be served immediately after cooking, piping hot. To get authentic results, I recommend using fresh ghee; my second choice would be a newcomer on the market –avocado oil. It can be heated to a very high temperature with out smoking, is very delicious, and one of the lowest of all unsaturated fats actually helping to lower cholesterol in the blood. Olive oil would be the third choice. I like to use baby white or purple eggplants, but large eggplants can be cut into wedges and used as well.
Salting time: 15-30 minutes
Preparation and Frying time: under 15 minutes
Ingredients
• Turmeric – 1 ½ table spoons (22 ml)
• Salt – 1 ½ table spoons (22 ml)
• Water – 3 table spoons (45 ml)
• Baby white or purple eggplants (about 1 ¼ pounds/570 g) or 1 medium-sized eggplant (about 1 ¼ pound/570 g) – 8-10
• Ghee or olive oil for frying

Preparation
1. Combine the turmeric, salt and water in a bowl. Cut small eggplants in half, or cut larger ones into wedges roughly 2 ½ inches (6.5 cm) long and 1 ½ inches (4 cm) wide. Toss the egg plant with the turmeric-salt mixture and set aside for 15-30 minutes.
2. To remove the watery turmeric marinade, drain the eggplant in a paper towel-lined colander. Pour enough ghee or oil to reach a depth ½ inch (1.5 cm) in a large heavy frying pan and place it over moderately high heat. When it is hot and nearly reaches its smoking point, carefully add a single layer of eggplant pieces. Fry, turning the pieces on all sides, until they assume a rich reddish-brown color and are fork-tender.
3. Rinse off the salt from the eggplant slices and pat dry with paper towels. Pour into a large heavy frying pan ½ inch (1.5 cm) ghee or oil and place over moderately high to high heat. When it is hot but not smoking, add as many eggplant pieces as will fit in a single layer. Fry on both sides until fork tender, reddish-brown and crisp. Remove with a slotted spoon and drain on paper towels. Fry the remaining eggplant, adding additional ghee or oil as necessary.
4. Place the fried eggplant in a single layer on a cookie sheet, brush or spoon on the sauce, and warm under the broiler just to let the flavors mingle. Serve hot.
Serves
6 to 8

By Yamuna Devi Dasi