Tomato Coconut Soup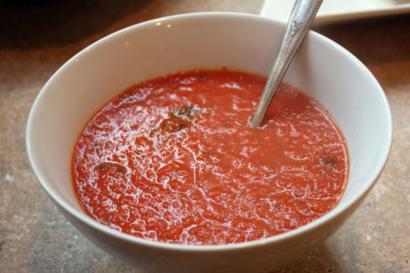 Ingredients
• Tomatoes – 1 ½ kilo
• Coconut – 1
• Pepper powder – 1 tsp
• Salt – as required
• Soaked rice – 1 tbsp
• Water – 3 cups
• Corn flour – 1 tbsp
• Butter – 1 tbsp
• Sugar – 1 tbsp
• Milk – 1 cup
Preparation
1. Add one cup of water to the grated coconut, liquidize and strain.
2. In the coconut add milk and corn flour and stir.
3. Melt butter over low heat, add tomatoes and rice, 5 cups of water and boil for 20 minutes.
4. Strain the soup through a fine shift.
5. Add coconut milk to the strained soup; mix sugar and heat over medium flame till 10 minutes.
6. Add salt and pepper.
7. Serve hot.
Serves
5-6 persons
By Bhaktin Malathy