Carrot and Coriander Soup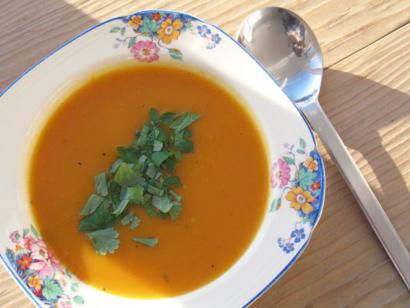 Ingredients
• Carrots – 7-8 medium sized
• Fresh cilantro leaves – 1 medium bunch
• Butter – 2 tbsp
• Bay leaves – 2
• Peppercorns – 8-10
• White peppercorns – ½ tsp
• Salt – as required
Preparation
1. Peel, wash and cut carrots. Clean, wash and chop cilantro leaves finely, reserve stems.
2. Heat butter in a pan, add bay leaves, peppercorns and fry for two minutes.
3. Add carrots, coriander stems and five cups of water and bring to a boil.
4. Boil till carrots are completely cooked and let cool.
5. Remove carrots and blend into a smooth puree.
6. Reduce stock slightly by boiling on high heat and strain.
7. Pour puree in a pan and slowly add strained stem to reach the desired consistency.
8. Bring to a boil again. Add white pepper powder dissolved in a little water, salt as per taste, finely chopped fresh cilantro leaves and stir.
9. Serve hot.
Serves
4-5 Persons
By Bhaktin Malathy