Tomato Rasam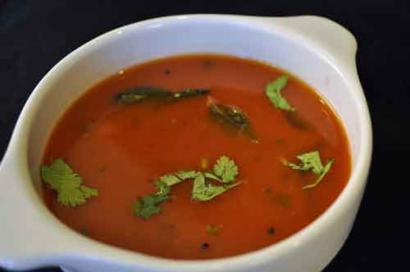 Ingredients
• Ripe Tomato (Choose very red tomatoes) – 4
• Green chili – 3
• Curry leaves – few
• Chana dal – 2 tsp
• Mustard seeds – 2 tsp
• Cumin seeds – 2 tsp
• Salt – as required
• Oil – 1 tbsp
• Coriander leaves (chopped)
Preparation
1. Cut tomatoes and mash it finely with hand or a masher to a fine puree.
2. Heat a pan, add oil, then add chana dal, mustard seeds and cumin seeds and fry until they splutter.
3. Add curry leaves, chopped green chili fry for a minute.
4. Add the tomato puree to the pan, water (about a cup-water level depends on how thick you want), salt and cook the tomato puree for about 10-15 minutes.
5. If you want spicier, add some red chili powder.
6. Turn off the heat, garnish with chopped coriander and serve hot.
Serves
4 Persons
By Bhaktin Mallika