Fried Bitter Melon with Ground Almonds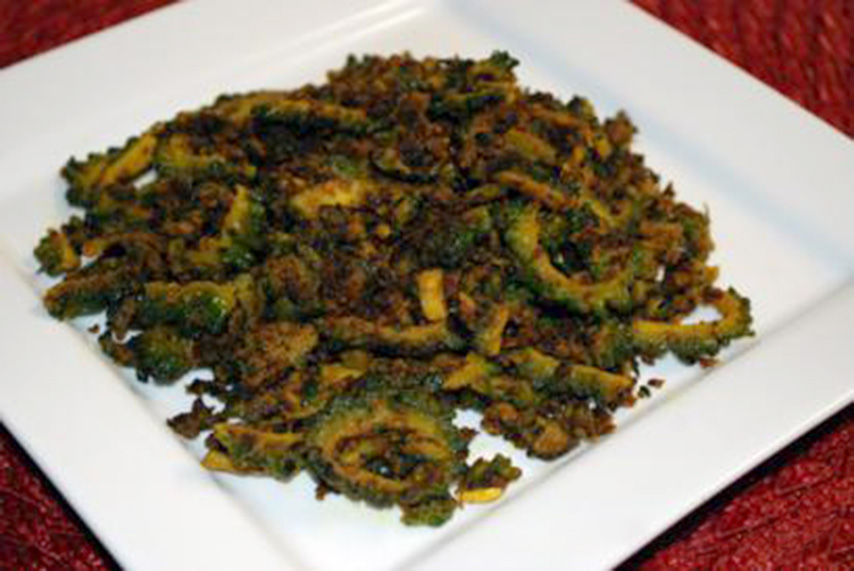 Aside from the fact that no Bengali meal is complete without a bitter dish, Bengalis also assert that bitter melon dishes aid digestion, cleanse the blood and encourage a failing appetite. Because most Americans feel that bitter foods are akin to medicines, this version tones down the bitterness. The cut vegetables are parboiled in salted water before they are fried and then liberally coated with ground almonds, nut butter and a touch of seasoning. The finished product is perfect for newcomers to fresh bitter melon cookery. Serve as you would a little mound of seasoned potatoes, more as an appetizer than a vegetable dish, on a full lunch or dinner menu.
Preparation and blanching time: 30 minutes
Cooking time: 10-15 minutes
Ingredients
• Bitter melons, up to 4 ½ inches (11.5 cm) Long or 2 medium-sized bitter melons, up to 6 inches (15 cm) long (about ½ pound/230 g) – 4 small
• Salt – 2 table spoons (3o ml)
• Warm water – 3 cups (710 ml)
• Ghee or vegetable oil – 4 table spoons (60 ml)
• Ground almonds or cashews – 2 table spoons (30 ml)
• Almond or cashew butter – 2 table spoons (30 ml)
• Paprika or cayenne pepper – 1/8 teaspoon (0.5 ml)
• Freshly ground nutmeg – 1/8 teaspoon (0.5 ml)

Preapartion
1. Trim the ends off the bitter melons, slice lengthwise in half, then into quarters, and scoop out the yellow-orange seeds and pulp. Now cut crosswise at ¼ -inch (6 mm) intervals. Combine the salt and water in a small saucepan and add the bitter melon. Set aside for 25 minutes, then bring to boil over heat. Parboil for 3 minutes, then rinse in a strainer under running water. Drain and pat dry with paper towels.
2. Heat the ghee or oil in a 7-9 inch (17.5-22.5 cm) frying pan over moderate heat. When it is hot but not smoking, add the bitter melon pieces and stir-fry until two-thirds cooked, about 8 minutes. Stir in the remaining ingredients and continue to cook for up to 5 minutes until well browned. Serve hot or at room temperature.

Serves
4 to 6

By Yamuna Devi Dasi