Gajar ka Halwa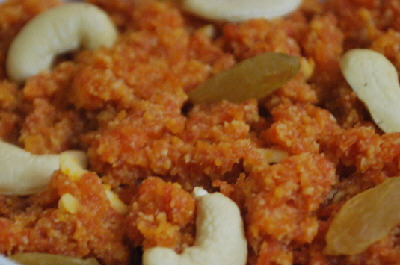 Ingredients
•Carrots grated – 1.5 kg (4 cups approx)
•Khoya (mava) grated – 200-250 grams (1 cup approx)
•Sugar – 3-4 tablespoons
•Cashew nuts & raisins to garnish
Preparation:
1. Put the grated carrots in a pressure cooker.
2. As the pressure reaches the maximum, pressure cook for 1-2 minutes & turn offthe flame.
3. Allow the pressure to release.
4. Heat a pan & add the pressure cooked carrots to the pan.
5. Allow water to get dried up completely.
6. Stirring it well, add the grated khoya (mava) to it.
7. Mix them well & cook till khoya gets absorbed into the carrots.
8. When they are well cooked together, add sugar to it.
9. Mix them well till sugar gets completely absorbed in carrots.
10. When it is well cooked, turn off the flame.
11. Garnish with cashew nuts & raisins.
12. Gajar ka halwa is ready to serve.
By Bhaktin Meena