Gauranga Potatoes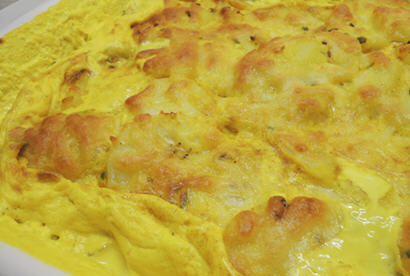 Ingredients
8 medium sized potatos peeled, sliced
1 table spoon olive oil
1 teaspoon jeera (cumin)
1/2 teaspoon hing (asafetida powder)
1 chunk ginger, minced
1 green chilli, chopped (de seeded – optional)
1 teaspoon haldi (turmeric)
1/2 teaspoon black pepper
1/2 teaspoon paprika
600ml Single Cream
1/4 cup water
1 1/2 teaspoon salt to taste
Handful of cheese, grated
1 generous handful of Love
preperation:
1) Boil the potato slices in lightly salted water for about 8 minutes till cooked but firm. Careful not to over-cook or you will have Gauranga Mash potato! Preheat oven.
2) Heat oil in a saucepan over medium heat and when hot, add jeera, ginger and then green chilli. Saute quickly and add hing followed by haldi and black pepper and stir briefly.
3) Add the single cream, salt and water. Stir into a smooth and even golden sauce and remove from the heat.
4) Off the heat, add the potatoes to a baking tray or casserole dish and pour mixture over potatoes and gently combine. Top with a layer of cheese and sprinkle with paprika. Place in the top portion of preheated oven.
Bake for 30 minutes or until the top is golden brown. Serve hot.
Variations:
For a less Indian taste, instead of ginger, chilli and Jeera, use fresh herbs such as parsley or thyme.
Alternative to single cream, use sour cream.
Cheese is optional
Try other vegetables, eg. Cauliflower. Peas and carrots.
For Ekadashi fasting, don't add hing
Source: http://www.harekrishnayoga.com/2013/03/gauranga-potatoes.html#.V5NQjvl96Uk