Gauranga Potatoes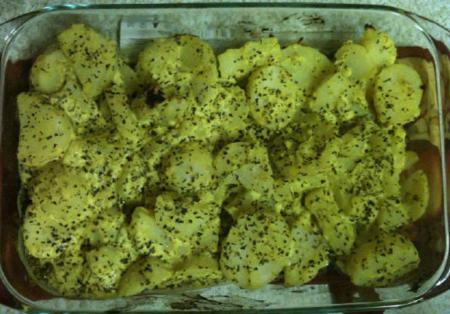 • Potatoes, boiled & cubed – 3 cups
• Ghee – 1 tblsp
• Rosemary – 2-3 tspn
• Celery Salt – 1 tspn
• Italian herbs – 2 tspn
• Black pepper – 1-2 tspn
• Turmeric – 1 tspn
• Sour cream – 3 cups
• Salt – to taste
1. Boil potatoes, peel and chop in to large pieces (4 pieces from a medium sized potato).
2. Heat ghee in a vessel on medium flame. Add rosemary and other Italian herbs and turmeric. When slightly browned and
aromatic, add the sour cream, black pepper, celery salt and salt and mix well.
3. Now fold in the potatoes and gently stir just enough to coat all potatoes with the sour cream mixture. Transfer to a baking
dish and bake at 350F till the top turns golden brown.
3-4
By Dipti Naik