Happy family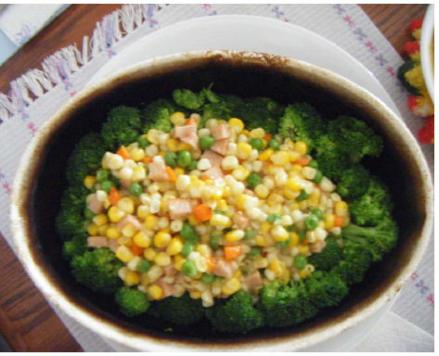 •
2 cups fresh corn kernels
•
½ cup soy meat (any kind or omit this)
•
24 small pieces of broccoli flowers
•
1 ½ cup water (or veggie broth)
1.Heat oil in a pan. Add carrot and soy meat and cook for a few minutes. Add corn kernels, salt and pepper, and cook for 5 minutes
before adding peas and water. Turn the heat low after boiling then add the corn starch mixture (corn starch mixed with water).
2.Meanwhile, in a pot of boiling water (add a few drops of oil and salt), blench broccoli flowers.
Squeeze out water before you decorate the serving tray. Add the cooked vegetables in the center of the tray/plate.
3.***If you do not have soy meat, use tofu or red/green peppers.
4.If you prefer, you may sprinkle a few drops of sesame oil on top.
6
By Madhavi Devi Dasi