Herbed Paneer Gravy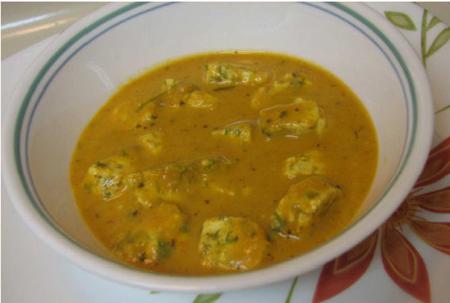 • 6 C whole/full cream milk
• 2 Tbsp chopped fresh fenugreek leaves
• 2 Tbsp chopped fresh coriander leaves
• ½ Tsp cumin powder
• ¼ Tsp ground black pepper
• 2½ Tbsp lemon juice
• 3 Tbsp ghee/oil
• 1-inch cinnamon stick
• 2 bay leaves
• 3 whole cloves
• 2 green cardamoms, bruised
• 1 star anise seed
• ½ Tsp yellow asafetida powder
• 2 Tbsp ginger chopped
• 2 green chilies, chopped
• 2 large tomatoes chopped
• 1 Tsp coriander powder
• ½ Tsp turmeric powder
• 1 Tsp salt
• ½ Tsp garam masala
• 1 Tbsp crushed kasoori methi (dried fenugreek leaves)
• 1 C milk/half and half/cream
1. Place the milk in heavy bottomed saucepan. Stirring often,bring to a rolling boil. Add the herbs and spices. Add the lemon juice. Stir
gently. If the milkdoesn't separate from whey, place it over heat until milk curdles. Transfer the curds and whey into a colander lined with a cheesecloth. (You may collect the whey by keeping a pot underneath the colander and use the whey in soups etc.) Gather the ends of the cloth and place heavy weight over the paneer and leave aside for 1 hour.
2. Heat the ghee/oil in saucepan over moderate heat. Add the cinnamon, bay leaves, cloves, cardamom, star anise, asafetida, sauté until brownish. Add the ginger and chilies. Fry for 2-3minutes. Add the chopped tomatoes, coriander, turmeric and salt. Cook uncovered over low heat until the ghee/oil oozes out from the tomato-spice mixture. Remove from heat and cool.
3. Transfer the contents to a blender and process until smooth and creamy.
4. Return the blended tomato-spice puree to the saucepan; add garam masala and kasoori methi. Cook over low heat for 10 minutes. Stir in the milk/half and half/cream according to the richness and consistency required (Adding milk yields to a mild gravy while adding cream gives a very rich flavor and half and half yields to intermediate results. Use any of these as required by you).
5. Unwrap the paneer from the cloth and cut in cubes. Add to the gravy and serve with naan, paratha, chapatis, pulao or rice.
4-5
By Anand Lila Devi Dasi