Gluten free Muffins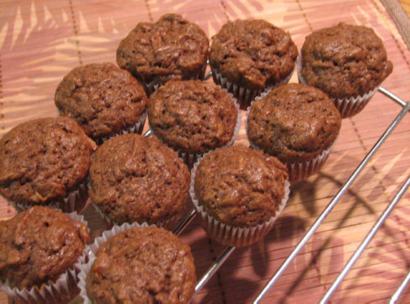 Ingredients
• 1 C brown rice flour
• ¼ C potato starch
• 1 Tsp baking powder
• 1 Tbsp carob powder
• ¾ C sugar
• ¼ Tsp ground cinnamon
• 5 Tbsp butter
• 1/3 C carob chips
• 1½ Tsp egg replacer + 2 Tbsp warm water
• ¾ C grated apples
Preparation
1. In a small saucepan, melt the butter and carob chips on low heat until well combined. Allow to cool.
2. In a mixing bowl, combine all the dry ingredients. Make a well in the center, add the melted butter-carob chip mixture and egg replacer. Mix with a spoon for 1 minute. Add the grated apples and mix. Spoon batter into paper lined muffin cups.
3. Bake in a preheated oven at 350 F/180 C for 15-20 minutes or until toothpick inserted in the center of the muffins comes out clean. Cool on wire racks.
Yield
24 mini muffins/12 regular muffins
By Ananda Lila Devi Dasi