Vegetable fritters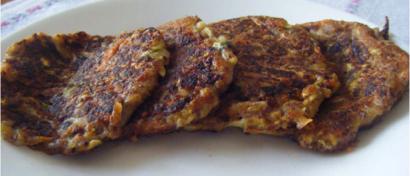 Ingredients
•1 medium carrot
•1 medium zucchini
•1 medium summer (yellow) squash
•1/3 cup flour
•1/3 cup grated parmesan cheese
•½ tsp or less salt
•1/8 tsp pepper
•1 ½ tsp egg replacer, mixed with 2 tbsp warm water or 1 tbsp flaxseed meal, mixed with 3 tbsp warm water
•Oil
Preparation
1.Shred carrot, zucchini, and squash. Pat vegetables very dry with paper towels.
2.In a bowl, mix shredded vegetables with flour, cheese, salt, pepper, and egg replacer.
3.Heat oil over medium heat in a skillet. Drop about ¼ cup of vegetable mixture into oil in skillet. Cook a few fritters at a time for 3-4 minutes, turning once, for another 3 minutes or until golden brown.
4.I used rye flour so my fritters look darker!
Serves
8 pieces
By Madhavi Davi Dasi