Gobi Manchuria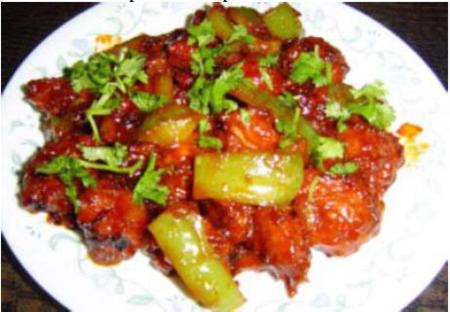 •
Cauliflower Florets-2 cups
•
Corn flour-2 tsp All purpose flour-3 tsp
•Green chilies-2
•Capsicum- 1 diced
•Tomato sauce-2 tsp
•Hot and sweet sauce-3 tsp
•Cilantro for garnishing
1. Steam cauliflower florets in salted water, and drain.
2. In  mixing bowl add corn flour, all purpose flour, vinegar, 1 tsp ofsoy sauce, salt, ajinomoto, soda and make a fine paste and add cauliflower florets and toss well and deep fry in oil.
3. Keep them aside. Now in another vessel heat 3 tsp of oil and fry green chilies, and capsicum pieces.
4.Add tomato sauce, 1 tsp of soy sauce, sweet and hot sauce and the fried cauliflower and mix well.
5. Garnish with cilantro and serve hot.
By Vaidehi