Grape Cinnamon Barfi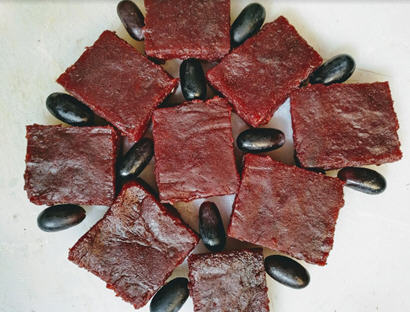 Ingredients
1. 1 cup unstrained juice of black grapes.
2. 1 cup water
3. 1 cup granulated sugar (optional :less two tablespoon for those who like less sweet)
4. 1 cup vanilla flavour custard powder.
5. 2-4tbsp Cinnamon powder
6. 2tbsp Ghee or any vegetable oil
7. 8inch greased baking tray or silicon trays or any vessel of your choice
Preparation:
1. Mix custard powder with 1 cup water and keep aside. No lumps should be there.
2. In a non stick frying pan, dissolve sugar in Grape juice on full fire.
3. Add 1tsp of cinnamon powder, mix well.
4. Once melted, on slow fire, slowly slowly add the above custard – water mix and keep stirring.
5. Then increase the gas on full and keep stirring till the mixture thickens and leaves the sides of the pan.
6. Add 1tbsp ghee or oil and mix well. The mixture will now smoothly leave the sides of the pan.
7. Put off the fire and immediately transfer to the desired greased tray.
8. With the help of the back side of a greased cup, set the burfi well in the tray.
9. Sprinkle 2-3tbsp of cinnamon and spread it evenly and gently over the entire burfi with your fingers.
10. Allow to set at room temperature for half hour, then in the fridge (Optional)
11. Cut into desired squares or rectangles with knife or any shape with a mold.
12. First remove the center piece, the rest will then come out easily.
13. Decorate with black grapes, serve to the Lord and distribute the mercy.
Note:
Makes 24 medium sized pieces.
Preparing time: 5 mts
Cooking time 8-10 mts
Setting time :30 minutes
By Bhaktin Dr Meena Samtani/Madhurlila DD