Spicy cookies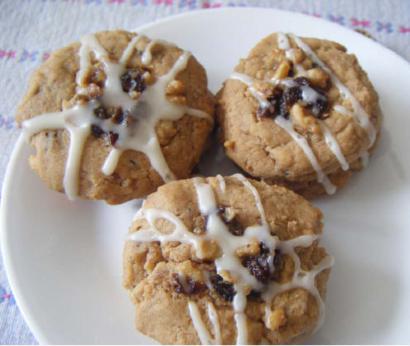 Ingredients
Cookie dough:
•1 cup raisins
•1 cup butter, softened
•2 cups brown sugar
•3 tsp egg replacer, mixed with 4 tbsp warm water
•1 tsp finely shredded orange peel
•1 tsp vanilla
•3 cups flour
•½ cup chopped walnuts or pecans
•1 tsp cinnamon
•1 tsp baking soda
•½ tsp baking powder
•½ tsp nutmeg
•¼ tsp salt
Orange Glaze:
•1 ½ cups powdered sugar
•2 tbsp orange juice
Walnut Topping:
•½ cup walnuts or pecans
•½ cup chopped raisins
•3 tbsp sour cream
•1 tbsp brown sugar
Preparation
1.In a large bowl, mix butter, vanilla, orange peel, sugar, and egg replacer mixture. In a medium bowl, mix flour, salt, baking powder, baking soda, cinnamon, and nutmeg.
2.Meanwhile, prepare walnut topping: combine all ingredients in a small bowl. To make orange glaze, combine powdered sugar and juice in a small bowl.
3.In a blender, mix raisins and nuts until they are finely chopped (tiny bits). Transfer nuts and raisins as well as the dry ingredients to the large bowl and mix all ingredients until well combined.
4.Drop dough (about 1 1/2 –inch for each ball) on the baking sheets. Flatten tops lightly. Spoon 1 teaspoon walnut toping onto the center of each unbaked cookie. In a 350F oven, bake the cookies for 13 minutes. Cool the cookies completely before drizzle orange glaze.
5.You may add crystallized ginger and ginger powder to make gingersnappers.
Serves
36
By Madhavi Davi Dasi