Grilled Potato Sandwich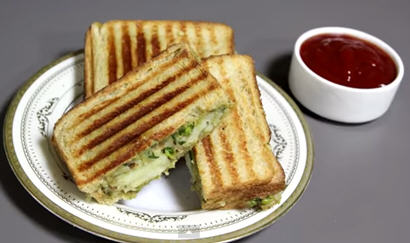 Ingredients
. Breads – 4
. Boiled Potatoes – 3
. Frozen Green Peas – 1/4 cup
. Green Coriander Chutney
. Butter – 2 tbsp
. Chopped Coriander – 2 tbsp
. Ginger Paste – 1 tsp
. Finely Chopped Green Chilly – 1
. Dried mango powder – 1/4 tsp
. Salt – 1/4 tsp
. Cumin – 1/4 tsp
Preparation
1. Turn on the flame and heat the pan.
2. In the meantime peel the potatoes and then finely mash them.
3. To the hot pan add cumin seeds and slightly roast it.
4. Add 1tbsp of butter and let it melt completely.
5. Add ginger paste, green chilly, salt and dried mango powder. Add green peas and cook it on a low flame for 2-3 mins
6. Mash them gently and add potatoes and green coriander leaves. Mix all the ingrdients and mash them well. If you want you can add carrot and capsicum too.
7. After the sauted stuffing is finally ready. Turn off the flame.
8. Spread a layer of butter over the bread slice. Then, spread a tsp of green coriander chutney on the bread slice. Place the potato stuffing on top of the green chutney and spread the stuffing evenly.
9. Then take another slice of bread and evenly spread the green chutney. Nowplace the second slice over the first one.
10. Likewise prepare another sandwich also. Now grill them inside a sandwich maker. Check it after 3 mins.
11. Grill sandwich is ready. Take it out from the grill.
12. Serve them after slicing it into pieces.
13. Tasty stuffed sandwich is finally ready.
By Bhaktin Archana