Gujrati Kadhi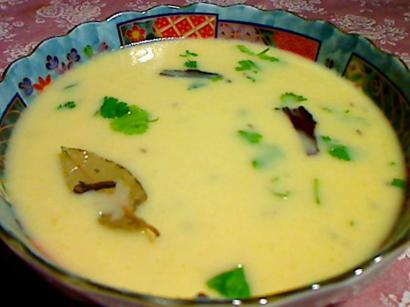 Ingredients
• Buttermilk – 2 cup
• Urad Dal flour – 2 tsp
• Green chili paste – 1 tsp
• Curry leaves – 1 tsp
• Sugar – 2 tbsp
• Cilantro leaves – 3 tbsp
For The Tadka:
• Ghee – 2 tbsp
• Cumin seeds – 1 ½ tsp
• Cloves – 3-4
• Cinnamon – 2
• Kashmiri red chilies – 1-2
• Salt – as required
• Asafetida – 1 pinch
Preparation
1. Mix 2 cups of water in the plain yogurt and churn.
2. Heat ghee in a pot and add cloves and cinnamon.
3. Then add cumin seeds, curry leaves, red chilies and asafetida.
4. Pour butter-milk and after 2-3 minutes mix grams dal flour and churn.
5. Add salt, green-chili paste, sugar and boil.
6. Remove from heat, sprinkle cilantro leaves and serve with rice or khichdi.
Serves
4 Persons
By Bhaktin Sushma