Gulkand Mawa Burfi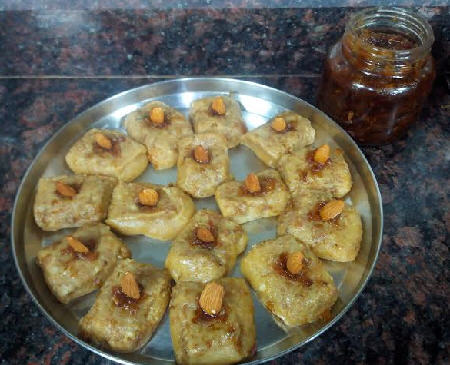 Gulkand is rose petals preserved in sugar and honey. A health tonic as per Ayurveda.
Ingredients
•1/2 kg – soft khoya or mawa
•2 cups – powdered sugar
•3 tbsp – ghee (clarified butter)
•1 tsp – cardamom powder
•3 tbsp – gulkand (a mixture with rose extract)
•8-10 fresh rose petals
•6 to 8 – almonds, slivered
Preparation:
1. Place a heavy pan on low flame and put gulkand into it. Add 5-6 fresh red-rose petals.
Stir gently for a while(3-4minutes) and when you see soft lumps form, remove from the flame and leave it aside to cool.
2. Apply some ghee to grease your palms and mash the khoya well with your hand so that it becomes soft and smooth.
3. Add powdered sugar and mix it well.
4. Put the mixture in a large non-stick pan, add 2 tbsp ghee and heat it on high flame for 2-3 minutes. Then heat it on low flame, stirring continuously. Once you see it take a light-brown color/cream color and the ghee starts separating at the edges of the pan, remove from the flame. The sugar will leave water, so the mawa consistency should be thick yet granular and soft. If you think it is too dry, add 2 more tbsp ghee to it.
5. Now add cardamom powder and mix well.
6. Take a small portion of the mixture, around 1/4th, in another pan, add the gulkand to it and stir to make a maroon- brown colored mawa mixture.
7. Now keep the 2 mixtures separate and allow it to cool till you can manage it with your hands without scalding your skin.
8. Take half of the cream colored mawa mixture and spread it on a greased plate with edges.
9. Then spread the brown mawa-gulkand mixture on top of it, and put a third layer of the cream colored mawa mixture right on the top. Cream-brown-cream or cream-brown combination.
10. Garnish with slivered almonds or pistachios or rose petals or Gulkand
11. Once the mithai sets a little, make small bite-sized squares using a blunt knife, then set it into the refrigerator for about 10 mins
12. Remove from the fridge, cut the squares and remove them from the plate and store them in an air-tight container.
13. You can preserve this sweet for 4 to 5 days in the fridge. It has a very unique taste due to the Gulkand in it.
Serve this beautiful Gulkand Burfi to the Lord and distribute the Prasad.
By Bhaktin Meena