Orange Tapioca (sabudana) Pudding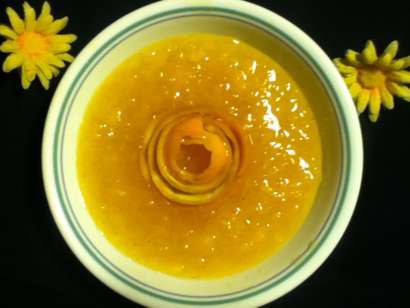 Ingredients
1/2 cup pearl Tapioca
2 1/2 cups cold water,divided use
1 large orange-cut into small pieces without the white membrane.
3 tbsp sugar
Orange zest- 1/2 to 1 tsp
1/2 tsp Cardamom powder- optional
Nuts for decoration
Preparation
1. In a small bowl, cover the tapioca with 1/2 cup cold water. Let stand for 30 minutes.
2. Add sugar and orange zest to the remaining 2 cups of water. Boil till the sugar dissolves. Slowly add the soaked tapioca to the pan, stirring constantly. Cook for 3-5 minutes until the pudding thickens.
3. Add the orange pieces along with it's juice. Boil again.
4. Add cardamom powder. Mix well.
5. Remove from heat
6. Add nuts for decoration.
7. Cool for 5 minutes before serving, or let it set in the fridge for 1-2 hours
8.Can be had warm or cold.
Preparation time – 5 minutes
Soaking time – 30 minutes
Cooking time – 8 minutes
Makes 6 servings of half cup each
By Bhaktin Meena