Jam and Nut Pinwheels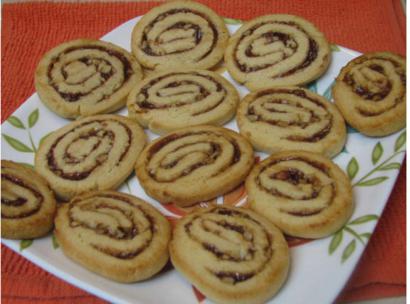 Ingredients
• ½ C butter, softened
•1 C packed sugar
• 3 Tbsp thick yogurt
•1 Tsp vanilla extract/essence
•2 C all purpose flour
•1 Tsp baking powder
•1/3 C any fruit jam of your choice
• ½ C chopped pecans or walnuts
Preparation
1. In a large mixing bowl, cream the butter and sugar until light and fluffy. Beat in the yogurt and vanilla.
2. Combine the flour and baking powder; gradually add to the creamed mixture.
3. Cut 2 wax papers in 15-inch square pieces.
4. Lay one wax paper on the working surface and place the dough on it. Now place the another wax paper over the dough. Roll out the dough between waxed paper into a 10-in square. Remove top piece of wax paper. Spread with jam and sprinkle with nuts. Roll up jelly roll style; wrap in plastic wrap and refrigerate for 2-3 hours or until firm.
5. Unwrap dough and cut into ¼-inch slices. Place 2-inch apart on baking sheets.
6. Bake in a preheated oven at 375 F/190 C for 10-12 minutes or until edges are lightly browned. Remove to wire racks to cool.
Yield
About 24 cookies
By Anand Lila devi dasi