Kalakand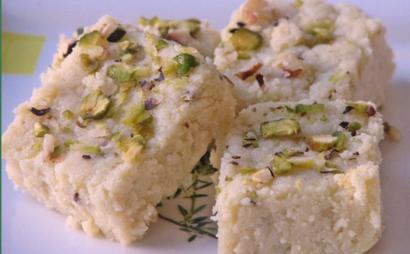 Ingredients
• Milk – 2 liters
• Sugar – ½ to ¾ cup
• Pistachios – 10-15
• Citric acid – ½ tsp (dissolved in ½ cup water)
Preparation
1. Boil half of the milk on the gas and as the milk boils add citric solution to it. Switch off gas.
2. Once the Chena settles sieve through muslin cloth, press out excess water, take in a plate and press down. Do not knead.
3. Put the remaining milk in a heavy pan and boil.
4. Add the Chena and boil till the mixture thickens, stirring continuously.
5. Add the sugar and continue to cook, stirring continuous till softly thickens in a lump.
6. Set the mixture in a tray, cut them into pieces and decorate with chopped pistachios.
7. Serve them in a serving plate.
Serves
5-6 Persons
By Bhaktin Mallika