Karuppu Ulundhu Vadai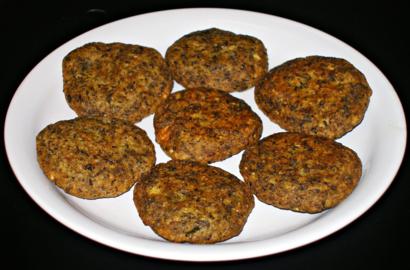 Ingredients
• Whole Black Lentils – 1 cup
• Raw rice – 2-4 tsp
• Ginger (grated) – 2 piece
• Green chilies (finely chopped) – 3
• Curry leaves – few
• Peppercorns (crushed) – 1 tsp
• Cumin seeds (pounded gently) – 1 tsp
• Asafetida – 1 pinch
• Oil – for frying.
Preparation
1. Soak lentils and rice in a vessel together for 20 minutes.
2. Then wet it and grind the same to thick paste.
3. Add all the above mentioned ingredients to it, except oil. Mix well with your hands.
4. Now take some of the portion from that batter in your palms and then first make round like boll.
5. Then press and make it little flat.
6. Do the same for the whole batter.
7. Heat oil in a wok(round bottomed pan), and add flatted vada into the oil and fry them on medium heat till golden brown in color.
8. Turn on the other side and fry it also till golden brown in color and crispy.
9. Serve them hot or cold.
Serves
3-4 Persons
By Bhaktin Pooja