Mohanthal Besan Burfi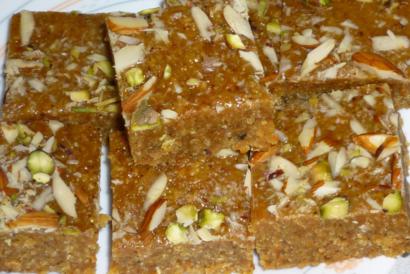 Ingredients
• Besan – 200 grams
• Sugar -200 grams
• Khova -100 grams
• Ghee -150 grams
• Milk -½ cup
• Almonds, pistachios and cashew nuts slivered -10 pieces of each
• Powdered Cardamom (Elaichi) Seeds -10 pods
Preparation
1. Add 2-3 tablespoons of ghee to besan and mix well.
2. Knead the dough with hot milk as hard as possible and make balls of about 4 inches.
3. Heat the ghee and deep fry the besan balls till they are golden brown.
4. Cool the fried besan balls and then powder them in a blender.
5. Add the powder to hot ghee and fry till it becomes golden brown.
6. Remove the besan powder and let it cool.
7. Fry khova in ghee till it becomes brown in color.
8. Remove khova and let it cool.
9. Mix sugar and equal quantity of water and make syrup.
10. Heat the syrup till it has '2 string' consistency.
11. Add besan, khova and cardamom to the syrup and spread the mixture on a flat greased tray.
12. Garnish with the almonds, pistachios and cashew nuts and cut into pieces.
Serves
4 Persons
By Bhaktin Archana