Kesari Semiya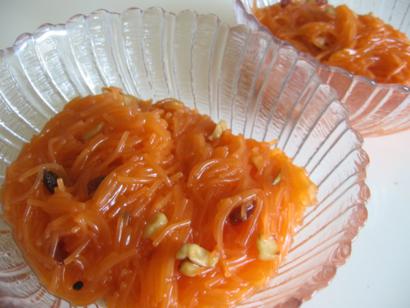 Ingredients
• Vermicelli – 2 cups
• Sugar – 1 cup
• Ghee – ¼ cup
• Chopped cashews – ¼ cup
• Raisins – 3 tsp
• Kesari powder – a pinch
• Elaichi powdered – 2 tsp
Preparation
1. Heat a tsp of ghee in a frying pan on medium flame.
2. Fry the cashews and raisins in ghee until they turn golden brown in color.
3. In the same pan fry the vermicelli in another 1tsp of ghee until golden brown and set it aside.
4. In a kadai add 4 cups of water and bring it to boil.
5. Add elaichi powder and a pinch of kesari powder to it.
6. Then add the fried vermicelli to the boiling water and cook till all the water is absorbed.
7. Now add the sugar and mix well for 10 minutes.
8. Finally add the remaining ghee, cashews and raisins and mix well.
9. Remove it in a bowl or a dish and serve hot or cold.
Serves
3-4 Persons
By Bhaktin Mallika