Lemon Bundt Cake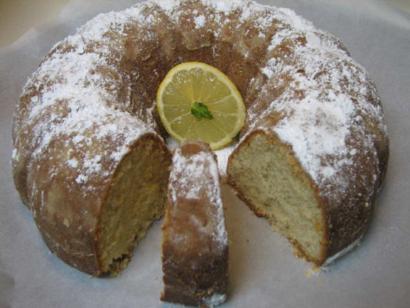 Ingredients
• 1 C butter softened
• 2 C sugar
• 6 Tsp egg replacer + 8 Tbsp warm water (combine until smooth)
• 2 Tbsp thick yogurt
• 1½ Tsp vanilla essence
• 3 C all purpose flour
• ½ Tsp baking soda
• 2 Tsp baking powder
• 1 C milk
• 1 Tbsp grated lemon peel
• Extra confectioners' sugar/icing sugar (optional)
Preparation
1. In a mixing bowl, cream butter and sugar until fluffy. Beat in the egg replacer and yogurt. Add the vanilla.
2. Combine the flour, baking powder and baking soda.
3. Add the flour to the creamed mixture alternately with milk, beating well after each addition.
4. Pour into a greased and floured 10-inch fluted tube pan.
5. Bake in a preheated oven at 350 F/180 for 60 minutes or until a toothpick inserted near the center of the cake comes out clean.
6. Cool the cake in the pan for 10-15 minutes. Invert the cake and cool on a wire rack. If desired, sprinkle some sugar on cake.
Serves
10-12
By Anand Lila Devi Dasi