Mango Ice Cream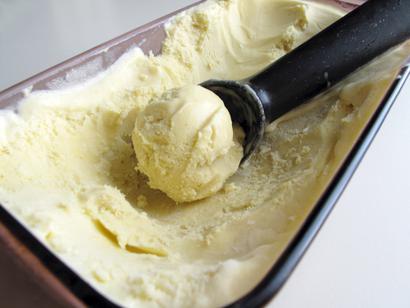 Ingredients
• Heavy cream – 1 ½ cups (375 ml)
• Cold milk – 1 cup (250 ml)
• Sweetened condensed milk – 1 cup (250 ml)
• Fresh mango pulp – 1 ½ cups (375 ml)
Preparation
1. Take the cream and pour it into a bowl and beat it until semi-whipped.
2. Beat the milk and condensed milk together in another bowl until well combined.
3. Pour the milk and condensed milk mixture into the semi-whipped cream and fold in the mango pulp. And mix well.
4. Pour that mixture into a metal freezer tray and freeze them for about 10 to 12 hours or until solid.
5. About an hour before serving, place the ice cream in the refrigerator to soften slightly.
6. Remove from freezer and serve in a bowl using ice cream scoop.
Serves
4-5 Persons
By Bhaktin Ranjana