Mashed Potato Balls with Horseradish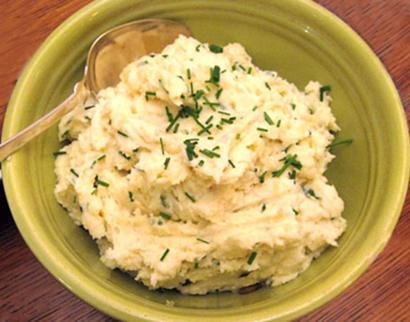 Horseradish, a pungent tap root, is used primarily in Bengali and orissan cuisines, though occasionally elsewhere. You can find the roots at Oriental and Indian grocery stores and some times even in supermarkets. Peel off the brownish skin and finely grate the outer part; discard the  tough woody core. Since you are likely to use only a little at a time, you can freeze the unused portion in plastic bags for up to two months. At room temperature, freshly ground horseradish loses its "punch" with in eight hours. In England, and in some American gourmet shops, plain grated horseradish is sold in small bottles.
This side dish is meant to be nose-tingling and buttery. It is served in smooth balls, 2 or 3 per person, at room temperature, with a wedge of lime. If you are considering a full-course Bengali meal, do give this delightful potato dish a try. It is also delicious for breakfast, spread on whole grain toast sprinkled with shredded cheese and broiled.
Preparation time (after assembling ingredients): a few minutes
Ingredients
• Baking potatoes (about 1 ½ pounds/685 g) freshly ash-or oven-baked of freshly boiled or steamed – 3 large
• Unsalted butter – 4-5 table spoons (60-75 ml)
• Grated fresh horseradish – 2-3 teaspoons (10-15 ml)
• Salt – 1 teaspoon (5 ml)
• Freshly ground white pepper – 1/8 teaspoon (0.5 ml)
• Paprika or cayenne pepper – 1/8 teaspoon (0.5 ml)
• Lime wedges, preferably key lime – 6 or 7
Preparation
1. Cut and scoop out the warm baked potatoes, or peel the skins from boiled or steamed potatoes. Mash with a potato masher or force through a food mill or potato ricer. Add the butter, horseradish, salt and white pepper, and mash with a fork until well blended. Ket cool to room temperature.
2. Divide into 12-15 portions and roll between buttered palms into smooth balls. Sprinkle with paprika or cayenne and serve at room temperature with lime wedges.
Note: This dish may be assembled up to 6 hours before serving, kept covered and refrigerated. Bring to room temperature before serving.
Serves:
6 or 7
By Yamuna Devi Dasi