Rice and Green Gram Dhal Bhath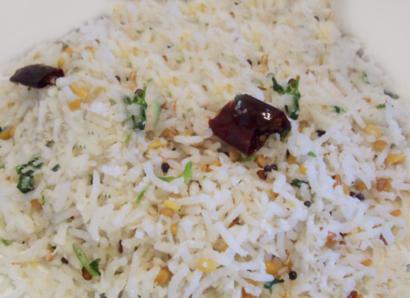 Ingredients
• Rice – 1 cup
• Green gram dhal – ⅓ cup
• Preserved chilies – 3-4 (Vatral)
• Oil – 2 ½ Tbsp
• Water – 3 ½ cups
• Salt – as required
• Grated fresh coconut – 3 tbsp
Preparation
1. Dry roast rice and dhal separately till light brown in color.
2. Heat pressure cooker, add oil and fry broken chilies till dark brown in color.
3. Add water, salt, and grated coconut. When it starts boiling add rice and dhal.
4. Mix and pressure cook on medium flame for 10 minutes.
5. Serve hot with sesame seed pachidi.
Serves
2 Persons.
By Bhaktin Ranjana