Mint Rice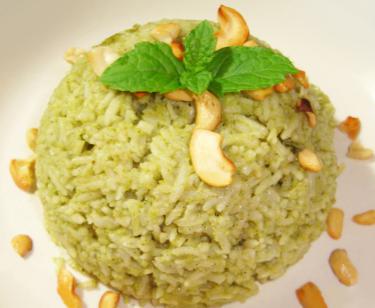 Ingredients
• Rice – 1 cup
• Mint leaves – 1 medium bunch
• Green chilies – 7
• Grated dry coconut – 2 tbsp
• Tamarind – small lemon sized
• Salt – as required
• Oil – 2 to 3 tbsp
For Seasoning:
• Mustard seeds – ½ tsp.
• Black gram dhal – 1 tsp.
• Bengal gram dhal – 1 tsp.
• Broken cashew nut – 1 tbsp(optional)
• Curry leaves – few
Variation:
• Cut tomatoes, grind masala with red chilies and make the recipe
Preparation
1. Cook rice till each grain is separate but soft to touch.
2. Spread over a broad plate to cool.
3. Heat a tsp. of oil and fry green chilies and mint leaves till the leaves shrink.
4. Grind it along with coconut, tamarind and salt.
5. Heat rest of the oil, fry the seasonings.
6. Add ground masala paste and fry few minutes till good smell comes from it.
7. Reduce the flame and add cooked rice.
8. Mix gently till rice becomes hot and then serve.
Serves
2 persons
By Bhaktin Malathy