Peanut Rice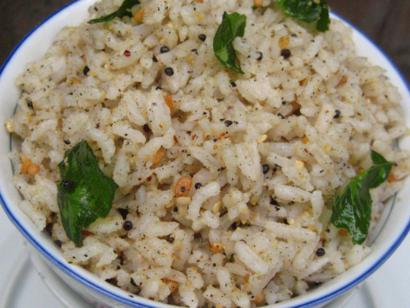 Ingredients
• Long grained rice – 2 cups
• Roasted peanuts – ¼ cup
• Sesame seeds – 1 tsp.
• Red chilies – 3-4
• Turmeric powder – ½ tsp.
• Salt – as required
• Oil – 2 tbsp
For Seasoning:
• Mustard seeds – ½ tsp.
• Black gram dhal – ¾ tsp.
• Bengal gram dhal – ½ tsp.
• Curry leaves – few
Preparation
1. Cook rice till it is half cooked consistency.
2. Allow it to cool. Separate the grains.
3. Remove outer red skin from roasted peanuts and pound it coarsely.
4. Heat a tsp of oil and fry red chilies.
5. Dry roast sesame seeds till light brown.
6. Heat oil and fry the mustard seeds, black gram dhal, bengal gram dhal and curry leaves till the dhal turns golden brown in colour.
7. Add turmeric powder and pour over rice with salt and other powdered ingredients.
8. Mix well and let it cook for 5-10 minutes on medium flame.
9. Remove from gas in a plate and serve hot.
Serves
2 Persons.
By Bhaktin Mallika