Jack Fruit Pulav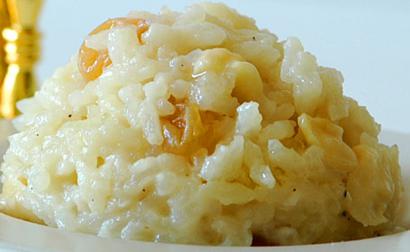 Ingredients
• Basmati rice – 1 cup
• Finely diced jack fruit pieces – ¾ cup
• Powdered sugar – ¾ cup
• Honey – 1 tbsp
• Pure ghee – 3 tbsp
• Cardamom powder – a pinch
• Cashew nuts and raisins – 1 tbsp
• Vanilla essence – few drops
• Fresh Cream – 1-2 tbsp
Preparation
1. Wash and soak rice for 10 minutes and strain it.
2. Boil two cups of water in a heavy vessel and cook rice in that separately on low flame.
3. Keep closed and do not disturb in between.
4. After 7 to 10 minutes, when rice is cooked and moisture is evaporated add powdered sugar, jack fruit pieces and half of the ghee.
5. Mix gently and keep on reduced flame.
6. After a few minutes add honey, fresh cream and cardamom powder.
7. Remove from fire; heat rest of the ghee, fry cashew nuts, and raisins. Pour over rice.
8. Serve hot.
Serves
2 Persons.
By Bhaktin Pooja