Pineapple Pulav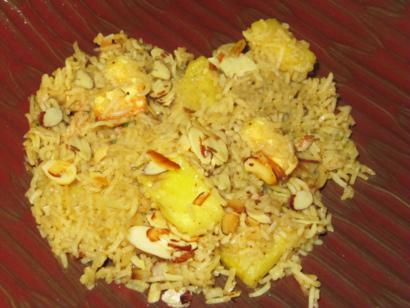 Ingredients
• Basmati rice: 1 cup
• Fresh pineapple – ½ or 1 small tin pineapple pieces
• Sugar – ½ cup
• Ghee – 3 tbsp
• Cardamom powder – a pinch
• Almonds – 10
• Saffron – little dissolved in warm milk or Saffron essence – few drops
• Fresh cream – 2 tbsp
Preparation
1. Cut pineapple into very small pieces.
2. Sprinkle sugar and cook in low flame with very little water.
3. When the pieces become soft remove from fire.
4. If tinned pine apple is used, drain the syrup separately.
5. Cut pineapple rings into small pieces.
6. Reduce sugar as per taste. Dissolve sugar in the syrup itself and heat till it becomes thick syrup. (Honey like)
7. Wash rice. Do not soak. Heat half a tsp. of ghee and fry for one or two minutes.
8. Cook in 2 to 2 ½ cups of boiling water in reduced flame. Cover and cook till water evaporates.
9. Add a pinch of salt in sugar syrup and pineapple pieces and stir.
10. Soak almonds in warm water, peel skin and grind into paste with cashew nuts. Add ground paste, saffron and fresh cream to the pulav.
11. Mix half of the ghee. When moisture is absorbed completely, remove from fire.
12. Add yellow color if necessary. Sprinkle cardamom powder, pour rest of the melted ghee and mix well.
13. Garnish with chopped almonds and serve.
Serves
2 Persons
By Bhaktin Shanti