Pomegranate Rice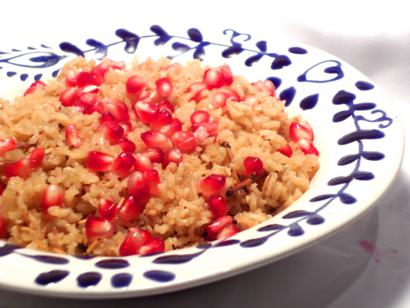 Ingredients
• Rice – 1 cup
• Pomegranate – 1 small (Ripe and Red)
• Green chilies – 3
• Red chilies – 2
• Cashew nuts – 1 tbsp
• Curry leaves – few
• Oil – 2 tbsp
• Salt – as required
For Seasoning:
• Mustard seeds – ¼ tsp
• Black gram dhal – ½ tsp
• Bengal gram dhal – ½ tsp
• Cinnamon – 4-5 small sticks
Preparation
1. Peel pomegranate and take out the seeds.
2. Crush it, or put in a mixer and extract juice from it. Strain and remove the seeds.
3. Heat oil, add the seasonings and when it turns golden add curry leaves, cashew nuts, broken red chilies and cut green chilies. Fry and add to Rice.
4. Boil pomegranate juice for two minutes, and then add rice with the seasonings and salt.
5. Keep in a low flame till juice is absorbed completely.
6. Serve garnished with finely cut coriander leaves or pomegranate seeds.
Serves
2 Persons
By Bhaktin Sushma