Mirchi ka salan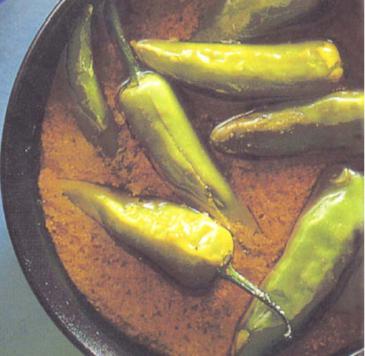 •
Green chilies……………………. 18-20 large sized
•
Oil……………………………….. 2 tbsp + to deep-fry
•
Ginger……………………………1 inch piece
•
Curry leaves………………………8-10
•
Sesame seeds…… …………….. 2 tbsp
•
Coriander seeds…………………… 1 tbsp
•
Cumin seeds………………………. 1 tsp
•
Roasted peanuts (peeled)…………. ½ cup
•
Red chilies whole…………………2
•
Mustard seeds………………………1 tsp
•
Turmeric powder……………………1 tsp
•
Tamarind pulp………………………2 tbsp
•
Salt………………………………….. To taste
1.Wash, wipe and slit green chilies lengthwise without removing the stems. Heat sufficient oil in a kadai and deep fry
chilies in hot oil for one minute. Drain onto an absorbent paper and keep aside.
2.Peel, wash ginger and chop roughly. Wash and pat dry curry leaves.
3.Dry roast sesame seeds, coriander seeds and cumin seeds. Make paste of roasted sesame seeds, coriander seeds, cumin seeds,
roasted peanuts, whole red chilies and ginger.
4.Heat two tablespoons of oil in a pan, add mustard seeds, let it crackle and add curry leaves.
5.Add turmeric powder and mix well. Add masala paste and cook for three minutes, stirring continuously. Stir in 1½ cups of water
and bring to a boil. Reduce heat and cook for ten minutes. Add tamarind pulp dissolved in half a cup of water, if it is too thick.
6.Add fried green chilies and salt and cook on low heat for eight to ten minutes.
By Vaidehi