Aamrakhand – Mango Shrikhand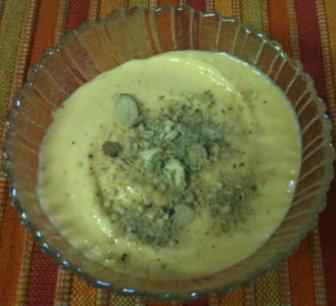 An extremely popular sweet dish from the western part of India2
• Yogurt – 2 cups
• Powdered Sugar – ½ cup
• Mango Puree – ½ cup
• Chopped Pistachios,almonds – 1 tsp ( for garnishing)
Preparation
1. Transfer the yogurt in a clean muslin cloth and squeeze to drain out as much water as possible. Then tie the cloth securely and hang the yogurt overnight to drain the remaining water.
2. If you still feel the yogurt is watery keep the yogurt bag under a heavy weight to drain any remaining water. This drained yogurt is known as 'chakka'
3. 2 cups yogurt will yield about a cup of chakka.
4. In a mixing bowl whip the chakka, mango puree and sugar to a smooth consistency. Yummy aamrakhand is ready.
5. Garnish with chopped nuts and offer to Krishna
6. Tastes best when served chilled with hot purees or chapattis.
Serves
5-6 or just 2 aamrakhand lovers
By Dipti Naik