Sodhi (MalaysianCurry)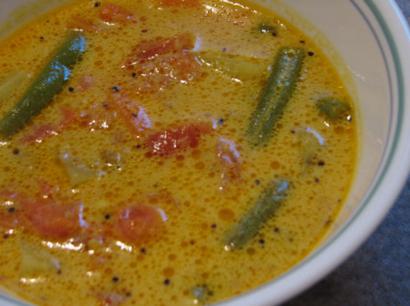 Ingredients
•Oil…………………………………………2Tbsp
•Black mustard seeds…………………1 Tsp
•Fenugreek seeds……………………..2 Tsp
•Ginger, finely grated……………….3 Tbsp
•Yellow asafetida powder………….1 Tsp
•Tomatoes
•diced into 1-inch cubes…………….3
•Potato, peeled and diced…………1 big
•Carrots
•cut into 2-inch lengths…………….. 2
•Green beans
•cut into 2-inch lengths………………½ C
•Firm tofu,
•diced into ¾-inch cubes……………300 g
•Coconut milk…………………………..900 ml
•Water…………………………………… 500ml
•Turmeric powder……………………. 1 Tsp
•Salt……………………………………… 2Tsp
Preparation
1) Heat oil in a heavy bottomed saucepanover moderate heat, add mustard seeds, when they splutter, add fenugreekseeds, ginger and asafetida, reduce the heat to low and stir-fry the spicesuntil fragrant.
2) Add all the vegetables and tofu, increasethe heat and sauté for a while. Stir in half of the coconut milk gently. Addthe water, turmeric and salt. Cover and cook over low heat until all thevegetable are cooked and the coconut milk sauce thickens slightly, about 30minutes.
3) Towards the end, add the remainingcoconut milk and cook uncovered for 5-7 minutes. Take off from heat and servehot with plain boiled rice.
Serves
5-6
By Anand Lila Devi Dasi