Mung Dal Soup with Tomatoes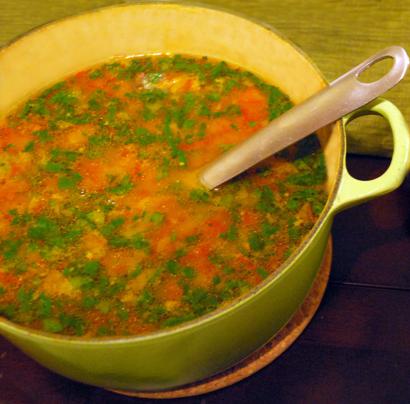 Dals are perhaps the most popular and the most economical foods in Vedic cuisine. They are relished by everyone, rich and poor, and are part of almost every Vedic lunch. A bouquet of delicate flavors in this creamy dal soup comes from the species, seasonings, tomatoes and sweetener added in the final stages of cooking. The recipe comes from the skilled hands of a great devotee of Krishna from West Bengal, Srila Prabhupada's younger sister, Bavatarini, lovingly known to his disciples as Pishima (Aunt).
Preparation time (after assembling ingredients): 10 minutes
Cooking time: 1 ¼ hours
Ingredients
• Moong dal, without skins – ¾ cup (170 g) split
• Water – 7 ¼ cups (1.75 liters)
• Turmeric – ¾ teaspoon (3.5 ml)
• Piece cinnamon stick – 2 -inch (5 cm)
• Ghee or vegetable oil – 3 table spoons (45 ml)
• Coriander seeds – 2 teaspoons (10 ml)
• Cumin seeds – 1 teaspoon (5 ml)
• Fennel seeds – ½ teaspoon (2 ml)
• Sesame seeds – ½ table spoon (7 ml)
• Whole cloves – 3
• Green cardamom pods – 4
• Black peppercorns – 5
• Salt – 1 ½ teaspoons (7 ml)
• Seeded hot green chilies, cut into large pieces – 1-2
• Sugar or equivalent sweetener – 1 table spoon (15 ml)
• Firm ripe tomatoes, coarsely chopped – 2 medium-sized
• Minced fresh parsley or coarsely chopped coriander – 3 table spoons (45 ml)
Preparation
1. Sort, wash and drain the split mung beans as explained on page 21.
2. Combine the mung beans, water, turmeric, cinnamon stick and a dab of the ghee or oil in a heavy 3-quart/liter nonstick saucepan over high heat. Reduce the heat to moderately low, cover with a tight-fitting lid and boil gently for 1 hour or until the dal is soft and fully cooked.
3. While the dal is cooking, warm a heavy iron frying pan over heat. Add the coriander seeds, cumin seeds, fennel seeds, sesame seeds, cloves, cardamom pods and peppercorns. Dry-roast, stirring occasionally, for 8-10 minutes or until the sesame seeds are golden brown. Remove and set aside.
4. Take out the cardamom pods. Remove the black seeds and put them with the other roasted spices. Discard the pods. With an electric coffee mill or a stone mortar and pestle, reduce the spices to a powder. Add enough water to make a moist paste.
5. When the dal is cooked, remove from the heat and take out the cinnamon stick. Add the salt and beat with a wire whisk or rotary beater until the dal is smooth.
6. Heat the ghee or oil in a small frying pan over moderate to moderately high heat. When it is hot, add the chilies and the moist spice paste. Stir-fry about 30 seconds.

Serves
4 to 6

By Yamuna Davi Dasi