Pumpkin Apple Soup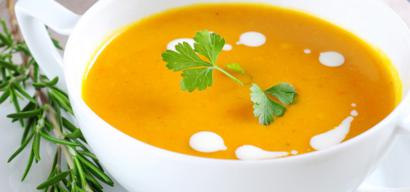 Ingredients
• Small pumpkin, peeled and cut into cubes(about 4 cups) – ½
• Apples (peeled and cut into cubes) – 2
• Water – 4 cups
• Curry Masala – 2 tsp
• Light cream or milk- 1 cup
• Sugar – 2 tsp
• Chopped coriander (to garnish) – ¼ cup
• Garam Masala – ½ tsp
Preparation
1. Take a pot fill it with water (4 cups, add extra if necessary to cover pumpkin and apples).
2. Add pumpkin and apples to it and cook them until soft on medium or high heat.
3. In a blender, add cooked pumpkin and apples along with the liquid. Grind into a soft puree.
4. Transfer pureed pumpkin to a pot and add curry masala, garam masala, light cream or milk and sugar.
5. Stir and simmer on medium heat for 10 minutes.
6. Serve hot soup in a bowl garnished with chopped coriander.
Serves
4 Persons
By Bhaktin Shanti